Our products are at the top of the market because of them. They are who fill our boards with soul. 
Get lost in the stories of the Anomy artists, find out who they are and how they got here. Face them and know their works. 
If you are an artist, you'll be interested in reaching to the end ;).
DAVID DE RAMÓN
With more than 20 years of experience, he begins as almost everyone in his profession, drawing and painting as always. From his studio in Madrid, Spain, he had the opportunity to collaborate with many international clients creating art for magazines, advertising agencies, book publishers, design studios or murals for retail shops and restaurants. 
He likes to work large to pay attention to detail, so the bigger his job, the better. That's why his illustration works so well on the murals.
AWARDS
THE SOCIETY FOR NEWS DESIGN, SPECTRUM FANTASTIC ART, 3 3 ILLUSTRATION ANNUALS, APPLIED ARTS, LURZER'S ARCHIVE 200 BEST ILLUSTRATORS WORLDWIDE OR TASCHEN ILLUSTRATION NOW! But his great success is having achieved his passion in his way of earning a living.
MR. WORDERFUL
The founders of Mr. Wonderful, Angi and Javi, are a married couple who are both talented graphic designers. They started with a small online business that today has grown into a company with a workforce of over 150 people.
Mr. Wonderful shares positive vibrations and good energy through their products, selling to many small shops and department stores in Spain, France, Italy, Portugal, Germany, Greece, The United Kingdom, The Middle East and Latin America. In addition to this, the first store of Mr. Wonderful opened recently located in Madrid. It has been a great success and has continued to extend joy to thousands of customers since its opening in 2019.
ELENA GARNU
She studied fine arts in San Carlos faculty of Valencia and completed her studies in Murcia – Albacete (Spain), his Hometown.
She lives in Murcia and works and develops personal projects at the same time.
She has collaborated with publishers like Simon & Schutster, Norma Editorial and Mueve tu lengua. Her contemporary and feminine style mixes portraits and elements of nature.
BOSSKA
Ana Cortés "Bosska" is a Spanish illustrator and muralist. She was born in Alicante, adopted in Malaga and Mexican by heart, after having lived there for 7 years.
He graduated in 2013 with a degree in graphic design from La Salle University in Cancun, where he took his first steps, both in design and illustration.
Throughout all these years it has been growing artistically, standing out for its peculiar style of illustration; "the drawing inside the drawing". A style that has led him to be interviewed by the renowned American network CNN and RNE (National Radio of Spain).
Her illustrations are the result of many artistic trends, highlighting the Art Nouveau with which she feels more identified.
Estudio Santa Rita
Santa Rita was born of its own creativity. Based in Southern Spain, Málaga, work all over the world. They are influenced by the pop art movement, surrealism and their own daily life. His work is recognized for its bold colors, strong figures, elegant letters and playful textures.
They are constantly experimenting to create the unexpected, and devise a new optimistic and colorful world, by using colors as a tool to inject a sense of energy.
They love working with agencies and clients who love what they do. 
Yoann Fournier
He is a French pop and street art artist born in 1985. Initially a designer and photographer, he obtained his Master's degree in visual communication from L'ECV in Aix – Provence. At the end of his internship, he was hired as a graphic designer and marketing assistant at the surf & skate company Globe Europe in Hossegor.
Passionate about board sports and images from an early age, he decided to stay and work in this environment that over the years offered him different career perspectives as a photographer, graphic designer, designer and creator of visual identity. All these professional experiences allow him to develop his skills, as well as his artistic fiber. Then, he became known as a creator of art works based on cuts of elements that he repositioned with humorous and visual collages strongly inspired by pop art.
Alex Trochut
Alex Trochut was born in 1981 in Barcelona, Spain. After completing his studies at Elisava Escola Superior de Disseny, Alex established his own design studio in Barcelona before moving to New York. Through his practice in design, illustration and typography he has developed an intuitive way of working that has given rise to his expressive visual style.
Mixing styles and genres of pop culture, street culture, fashion and music, Alex has created design, illustration and typography for a wide range of customers: NIKE, ADIDAS, THE ROLLING STONES, KATY PERRY, BBC, COCA-COLA, PEPSI, THE GUARDIAN, The New York Times, Time Magazine and many others. Alex's work has been internationally recognized, appearing in exhibitions and publications around the world. He has given talks and been honored by THE ART DIRECTORS CLUB, INCLUDING BEING NAMED YOUNG GUN 2008, THE DIRECTORS CLUB OF TYPE, CREATIVE REVIEW, CANNES, CLIO AND D&AD, AMONG OTHERS. His monograph, More is More, explores his work methodologies and influences and was published in 2011.He currently lives and works in Brooklyn.
MR. Sor2
Sor2 has been doing art since he was 13 years old. Born and raised in the Basque Country (SPAIN), he got an appreciation for the street art around his neighborhood and it developed into his lifestyle. Art has opened doors for him and allowed him to travel to different countries and practice his passion.
He works with a variety of art methods, never limiting his imagination. His phenomenal style has adapted to indoor and outdoor environments, often creating detailed surrealistic paintings. His primary works are detailed murals created through the use of paint rollers, paint brushes and spray paint.
Desegin
Iban Galan (Arrasate, Basque Country). After studying Artistic Bachelor in Gipuzkoa, illustration in Vitoria-Gasteiz and Graphic design in Barcelona, in 2010 he decided to create his own brand "Desegin".
In 2011 he created his first individual exhibition presenting it in various cities, including at the "DESIGN WEEK" festival in Barcelona or at the BEC (Bilbao Exhibition Center) in Barakaldo. In recent years his works have also been exhibited in other cities.
Jason Pop
Illustrator/graphic designer/tattoo artist born in the beautiful city, Banja Luka (Bosnia and Herzegovina) but living in Milan. She always wanted to work around the world as an illustrator and tattooist. Her work is a variety of colorful projects and combinations of different techniques.
Paiheme Studio
Founded by Pierre-Marie Postel in 2018, Paiheme Studio is the invitation of a French illustrator to discover his nostalgic world of Japan.
In his work, rotring, pen and India ink became his favorite tools. He quickly developed a passion for graphically dense works and admires the work of Japanese mangakas such as K. Otomo and T. Nihei, but also of French artists such as Mc Bess, G. Doré or P. Druillet.
Isa Muguruza
Isa Muguruza is a Spanish illustrator who develops her career in different fields: Digital illustration, painting, fashion pattern design, graphic design, art direction…
Her crazy colorful universe keeps bringing about collaborations with brands such as Netflix, Vogue, Glamour Magazine, Flying Tiger, New Era, Utopian Dreamers, Now or Never Jewelry, Becomely…
Seamless
With digital art and illustration on the rise, Seamless is definitely one to be watching. With over 26.5k followers on Instagram, this artist has caught the eyes of many around the world. With an average of 2,000+ people reached with each post it is safe to say this inspiring artist has many people mesmerized. Many of the colorful and vibrant masterpieces that this artist captures, reflects portraits of the moon and other intergalactic images. Alongside these, you will also discover a beautiful array of hallucinatory images.
Scientific exploration has a whole new meaning when you come across the page of Seamless. In a world of artists' who take the path of others, this jaw dropping artist has paved a new way for themself. With images capturing and embodying powerful feelings of flamboyant eccentricity, this artist is insistent in delivering masterpieces that overwhelm the viewer with psychedelic sensations.
Asis Percales
Asis Percales is an illustrator from Granada, Spain. His eclectic style is based on the modern tattoo culture, circus and European religious imaginary, comic culture and above all the cumbia style. His art is all about stories, characters from different backgrounds and their experiences across time.
Ibane Cerezo
She has been drawing for as long as she can remember. She was born in the Basque Country, but now lives in Barcelona, where she has been able to develop her creativity and turn her hobby into her trade. Flora and fauna are always present in her work, as part of a parallel universe where she tends to dive into through the practice of illustration.
From the spontaneity of a little giri, she has made drawing a way of life and, nowadays, is what unites her to her truest self.
Señor Salme
David Salmerón, Based in Málaga, Señor Salme is an illustrator with a penchant for astronauts, science fiction and old-school comic-books. 
Despite exhibiting a rather shameless submission to his old Wacom tablet, Señor Salme cultivates a thorough and unrequited love for good brushes and the thick smell of ink. His drawings are influenced by an inconsistent blend of comic-books, popular culture, symbolist painters and mythology. Apart from illustration, he is also fond (though in a somewhat faked way) of Soviet science-fiction films, second-hand books containing handwritten notes by their previous owners, and a musical genre he likes to call nerdie music, which may have little relation with what other people are referring to when using this tag.
Venyason
Veniamin Sonin is an artist from Ukraine. Born in Moscow in 1994, he finished his bachelor degree in Fine Arts in NTUU KPI (Kiev) and Master's in illustration at Bau (Barcelona).
The art style of Venya's work can be described as Low Brow, a lot of colors, doodling, influenced by old-school Russian and American cartoons.
He works as illustrator and graphic designer, mostly with clothing brands, but meanwhile experiments with installations, sculpture and animation. The important part of Venyason's work is street art, always made with spray cans and markers.
Nowadays his studio is based in Barcelona, where he is working on canvases, typography and graphic design.
Emil Kozak
Born in a small town in Denmark. His vital passion for Skateboarding inspired him to pursue graphic design. Growing up in his teens surrounded by squiggles, surfboards, and punk rock, his style has been fresh, direct, and impactful.
The nonchalance that characterizes his works usually hides a deeper message that combines the care of the composition with the delicacy of the details. Continuing the tradition in Scandinavian Design, he has been focusing on sharp lines, simplicity in color and experimentation with typography. However, we found unexpected surprises inherent in puns, codes or signs that cause ambiguous references.
His work has been exhibited throughout Europe and the United States, it has also been published in numerous books and magazines. His clients include firms such as Vans, Element, Graniph, Burton / Channel Islands, Nike, Lab Skateboards & Uniqlo.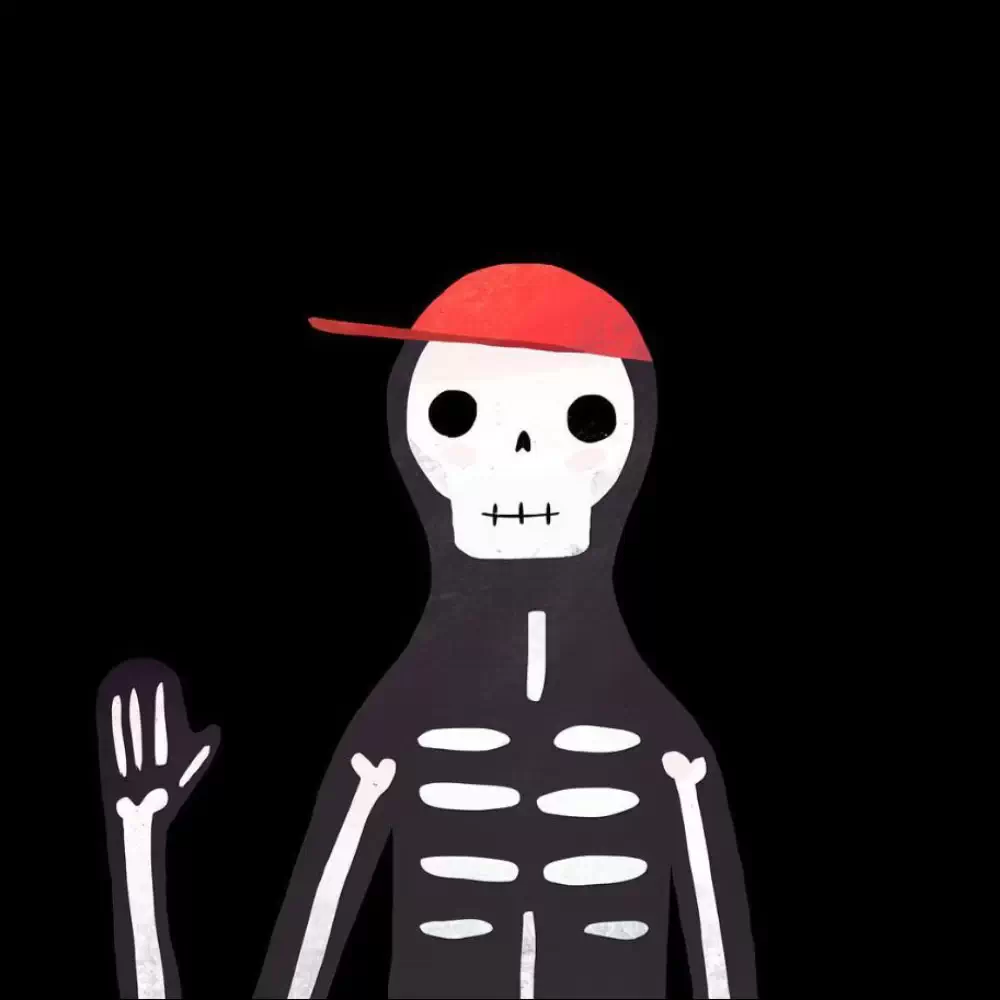 Jarom Vogel
JAROM VOGEL received a BFA in illustration from Brigham Young University in 2015 and has since worked with Apple, Procreate, Adobe, Nobrow, HarperCollins, Skillshare, and others. He has illustrated 2 children's books and is currently working on a third. When he's not drawing, he enjoys beaches, fine ice creams, Peach Coke, and skiing. Jarom currently lives in Portland, Oregon with his wife Natalie.
(He is not a skeleton.)
Xurris & co
Mar Porigimon. After completing her Fine Arts degree and unsure of her future as an artist (not least due to the fact that she is terrible at oil painting) she tried her luck on TV as a mixer technician, wasn't enough, she mixed it up with jobs retouching photos of naked women, á la soft porn. After somewhat surreal years and a bit fed up with her computer, she felt she needed to go back to her Fine Arts roots and create things with her hands.
Carla Ariza. After studying Fine Arts together, where she experimented with aromas and food in her sculptures (mud vade retro) and pissed off hardcore animal activists at university by using colorful fish in her installations, Busquets Gruart signed her as a graphic designer. She also decides to enroll in a failed Masters in "Arts and Cuisine", another one of her passions, where she ended up forming part of the Bulli foundation, so amidst gastronomic liturgies, trade shows and wooden pieces, she re-evaluated her future and decided to founded 'Xurris & CO Creative Studio' in 2015 where she hopes to continue creating and exploring the limits of art and design (assuming there are any).
So, she and Carla setup Xurris & CO, a blog where they can speak their minds and make handcrafted pieces. And so 'Xurris & CO Creative Studio' was born in 2015, amidst lots of excitement and hopes for the future, including getting their own interns.
Quyen Dinh
Quyen Dinh is an artist born in Vietnam but now based in California. She always showed her creative side but it was not until she painted a picture for a gift that she realized her talent. Her paintings have their own identity with characters related to old school tattoos and popular culture.
People always ask if tattoos were addicting. Her answer was always "no," since the decision of becoming heavily tattooed was decided at a young age. She guessed that was natural for a kid who loved art and had a talent for fine art; it just seemed right to want to cover her body with the very thing she loved. She wasted no time and got her 1st tattoo as a birthday present at 16. She hasn't slowed down since. She enjoys creating everything from sculptures to hyper-realistic drawings; however, She has made the decision to pursue tattoo art exclusively at this time. And She is glad she did. That's her story and she is sticking to it!
Bakoom Studio
Bakoom is a graphic design studio founded by Xavier G. Lienas and Albert Soriguera; two creatives who share the same ideal: believe in a conceptual and creative design to provide solutions to all communication challenges that brands, companies or institutions may have. They understand projects as a process to be shared with their clients: work together to understand and conceptualize the real needs.
They have worked with Danone España, Olympus España, Gran Teatre del Liceu de Barcelona, Ajuntament de Barcelona, Young&Rubicam BCN, Vida Caixa, Infojobs, Boehringer Ingelheim, Oriol Balaguer, …
Lara Costafreda
Lara Costafreda works as a freelance illustrator from her beautiful studio in Barcelona. She develops creative projects and illustrations for many brands, agencies and publications from all around the world. Her universe is dreamy and wild – it talks about freedom, nature and women.
Some of her clients are:
Chanel, Hermès, Cartier, Marie Claire Magazine, Vogue, Glamour Magazine, Carolina Herrera, Shanghai Fashion Week, Heineken, Amnistia Internacional, Pepe Jeans, Red Magazine (UK), Ohlalá Magazine (Argentina), IFC Mall Shanghai, Lunwerg Editorial, Coordonné, Balliu, Editorial Gustavo Gili, Vino Afortunado, Motel One, Joid'art, etc.
Tito Merello
Tito Merello Vilar is an architect and Illustrator primarily using a Ipad Pro 12.9inch to design and draw digital paintings and drawings i first found his work on Instagram and feel in love with his modern approach to drawing and designing architecture and portraits he uses a Ipad pro and apple pencil almost exclusively for all his work now which brought me to purchasing a Ipad pro and pencil so that i could draw and tweak ideas and designs simply and effectively in a short space of time and advance in learning more about the digital arts. I like the way his drawings are crude and almost unfinished in appearance, leaving almost a blueprint to his sketches, still visible even when advanced technology enables him to edit and remove the initial sketches and marks.
Mariadiamantes
Mariadiamantes is a graphic design and illustration studio whose heart, head and hands lie in Clara Mercader, an artist and designer based in Barcelona.
Clara's projects are delicate, coloristic, minimalistic and warm, all of them featured by one core element: the synthesis of shapes and colors. A reduced palette and the cleaning of silhouettes are the basis for her very unique and personal style.
As an artist, Clara's reached a wide range of audiences, and she is always willing to adapt her shapes, textures, colors and techniques to each different project in order to meet the customer's needs.
Her former projects include works for clients such as Volkswagen, Amazon, Ajuntament de Barcelona, Estrella Damm, Banc de Sabadell and some small companies, amongst many others.
Amaia Arrazola
Amaia Arrazola Otaduy was born on a sunny day, on the 18th of April in 1984. She works in the world of creativity and drawing, on both small and large-scale projects.
After studying advertising and public relations in Madrid, she began her career in the advertising field. After that she did a Master in Design and Communications at the Elisava School in Barcelona. Once finished, she started to build a portfolio of clients and small projects. She began working as an illustrator, first via the contacts she had from her advertising days, then by getting into the editorial scene, and finally moving on to large-scale projects, murals, and street art.
Nowadays, she divides her time between editorial projects and murals. She feels much more fulfilled now but she is always open to trying new forms of interesting collaborations.
She loves art, drawing, typography, screen printing, pottery, sewing and embroidery, story-telling, old things, unusual things, UFOs, unicorns, yetis, the Loch Ness monster, pink, blue, violet, constellations, the right side of the bed, pizza, burgers, milkshakes, and koalas. She has an imaginary dog.
Miki Montlló
A renowned Catalan artist and illustrator specialized in comics. He was established as the 'Revelation' artist in the International Comic Barcelona Fair.
In the 2016 edition, this Fair dedicated an exhibition to him. Some of his works are the Warship Jolly Rogers saga. He is also guilty of games like Hollywood Monsters, Broken Sword or Runaway.
Brosmind
The Mingarro brothers, Juan (1978) and Alejandro (1981), were born in Huesca and spent most of their childhood in Binéfar, drawing comics, building vehicles for their action figures and shooting movies with a domestic camcorder.
They have received numerous international awards: Cannes Lions (Gold, Silver, Bronze), Clio, Eurobest, Graphis, Communication Arts, IF Design Awards, FAB, Laus (Gold, Silver, Bronze), CdeC, El Sol, La Lluna, Gráca, Ñh6, Art Clash, Output Award, amongst others.
Hey Studio
Hey is a graphic design studio based in Barcelona, Spain. They specialise in brand identity, editorial design and illustration. Their love for geometry, color and direct typography made the essence of who they are.
Hey was founded in 2007 with the idea of transforming ideas into communicative graphics. This is the essence of who they are.
They take care of every single step of the design process and they always work closely with their clients, big or small, in one-to-one relationships.
Ricardo Cavolo
Born in Salamanca, Spain, in 1982, Cavolo is equal parts artist and storyteller, weaving intricate narratives with detailed brush strokes and vibrant colors attracting emotions from curious glances. Each of Cavolo's portraits are smeared with personality, emphasizing not only his keen storytelling but the astuteness and depth with which he creates peoples.
His portfolio speaks volumes of his abilities with a brush, ranging from paper to murals to the sides of swift moving trains. Cavolo-touched facades attract thousands of eyes in cities worldwide—you can find his large-scale work all over Europe, North America and the United Kingdom.
Much more than esoteric, his work engages the masses, as most well-told stories do. With an inherent Spanish influence and particular attention to colors and moods, Cavolo's portraits and murals tell an amazing story of the artist's character as well—the passion, the bravery and the driving imagination.
Conrad Roset
Drawing has been his passion and the motive that geared his life. When they were kids he and his brother used to draw everything they liked; years later he developed his most personal collection, Muses, inspired by women.
He has produced works for Amnisitia Internacional, Adidas, Bwin, Coca Cola, Custo, Disney, F.C.Barcelona, Heineken, Intima Cherry, Mango, Nike, Oysho, TED, Tous, Skoda, Umberto Giannini, Zurich, amongst many others. 
IF YOURS IS ART, YOU LIKE CHALLENGES AND YOU THINK THAT OUTDOOR PLANS ARE THE BEST, WE WANT TO MEET YOU. TELL US SOMETHING ABOUT YOURSELF, WHATEVER YOU WANT. WE ARE FLIPED BY PEOPLE AND WHAT THEY ARE ABLE TO CREATE.
Don't be shy, we're nice. Please use this form: